[Série] Interviews et concours cosplay (Edit n°3)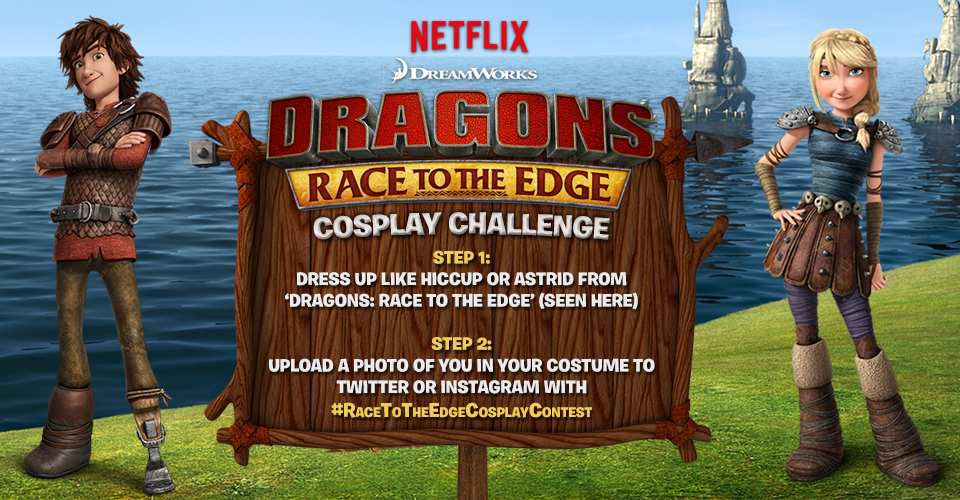 Dress up as Hiccup or Astrid from Dragons: Race to the Edge and enter our Cosplay Challenge Contest for a chance to win a DreamWorks Dragons prize pack! http://bit.ly/RTTEcosplay

To enter, upload a photo of you in your Dragons: Race to the Edge cosplay on Twitter or Instagram with
#RaceToTheEdgeCosplayContest.
Également un interview en anglais sur la prochaine saison de Dragons, durant la convention Wondercon.
[Édite 2 : Résumé de la vidéo en anglais ]
–Alfred Molina's character (one of the villains in Race to the Edge) is named Vigo (if that's how it's spelled).

–A particularly BIG one here: Heather will return in Race to the Edge (with Mae Whitman set to reprise that role).

–Heather will have her own dragon in Race to the Edge. The species of the dragon is unknown at this time, but it does have a name: Windshear.

–Expect Heather to be more heavily involved in Race to the Edge. Asides from her dragon, she will also have a major storyline that will see her confronting another fan-favorite character: Dagur the Deranged!

–As Race to the Edge is further down the timeline than previous seasons, expect plenty of easter eggs and plotlines that build towards How to Train Your Dragon 2. In particular, they mentioned the love triangle between Snotlout, Fishlegs, and Ruffnut and how that will come to be.

–This isn't about Race to the Edge per say, but they did talk about how far they have come since Riders of Berk. When they started Riders of Berk, Sloan admitted that it was tough ride up since he and Brown were not only new to the How to Train Your Dragon universe, but the CG animation "wasn't there yet". They then began to praise the level of animation in Race to the Edge. They particularly mention the more life-like physics of elements like water interaction.

–Brown and Sloan elaborated that while they may not be a laugh-a-minute sitcom, they are always careful to balance out the drama with the humor. Furthermore, it was even more important that the humor is character-based. It's not random hijinks, as it's always coming from the personalities of the characters and their interactions.

–When they get high-profile stars to come on to the show, it's usually because these actors wanted to do this show. Both Alfred Molina and Adelaide Kane have both expressed interest in wanting to be a part of this show.

–This one was interesting: even though it was a TV series (which normally meant turning over the characters to a set of TV actors), Jay Baruchel wasn't willing to let that happen. As far as he was concerned, the role of Hiccup was his and he very much owns it.

–Touching back on Heather, Brown says that she becomes a major part of the Dragon Riders in Race to the Edge. This essentially confirms that Heather will join the Riders on their journeys throughout the season.

–They also confirm that David Tennent will return as Spitelout (Snotlout's dad). Also returning is Zack Pearlman as the TV voice for Snoutlout. No word on whether or not Andree Vermeulen will return as the TV voice for Ruffnut.

–According to Kelly Kulchak, the aim for all of their Netflix shows is to do 'cable-level' animation. She mentions the high-end production values of shows like Game of Thrones and wanting to give all of their shows the same kind of quality that you would expect from shows of that caliber.

–Near the end, both Brown and Sloan do reiterate that the focal point of the show (and the entire franchise as a whole) is Hiccup and Toothless. It's their relationship that is always the centerpiece of the franchise.

–There's apparently a "ton of cool stuff" that can't be talked about yet. Kelly even mentions that there may be something at this year's San Diego Comic-Con (which sounds very exciting).

By this point, it's fairly obvious that for all the information that we have on Race to the Edge, there is still more to come. As such, we will keep you updated when more details come our way.

Dragons: Race to the Edge will premiere exclusively for Netflix on June 26. Be sure to check out The DRAGONS TV Recap series here (Parts 1 and 2 of Defenders of Berk will be out next week!).

EDIT: According to the 'Cast & Crew' info on the official website, Andree Vermeulen will reprise her role as the TV voice of Ruffnut
[Édite 1 : Interview de Art Brown et Doug Sloan ]
Art Brown et Doug Sloan, producteurs exécutifs parlent de Dragons : Race to the Edge.
[Édite 3 : Résumé de la vidéo en anglais ]
* Doug and Art elaborated more on Dean's involvement. Essentially, they break the season to him and show him the direction that they are going to go for that particular season. This is so that Dean can point out something and say "can you adjust this, because I might do something similar in the next movie" (not his exact quote).

* The first season (Riders of Berk) was were they had the most trouble, as they didn't have any idea as to what the second film was going to be like. "We were writing in the dark." Says Doug. But when they got closer to How to Train Your Dragon 2 and they were able to find out about the plot, they had a much clearer idea of where the show was going when it came time to move to Netflix. As such, there were certain things that they couldn't breach (Valka and Stoick's fate were two examples they pointed out), but they can build up to things that were in the second movie (like the flight suit and the dragon blade).

* Dean's not the only one that they check in with. They also talk to Bonnie Arnold (producer of the films) and Greg Taylor (executive for the show) and they also help to keep the continuity straight.

* The fact that we are further down the timeline and that these are older kids gave Doug and Art the freedom to tell "different types of stories" with them. Also, DreamWorks' partnership with Netflix gave them the freedom to tell the stories the way that DreamWorks want them to be told. In the case of Dragons, that also gave Doug and Art the freedom to do the same.

* For Race to the Edge, Netflix wanting something completely new. Something that "looked different, felt different, sounded different". Needless to say, we're in for a completely different show in comparison to Riders/Defenders. They also mentioned that the level of animation for Race to the Edge is something that couldn't have been accomplished in previous seasons.

* When asked if the plan was to always have another few seasons that led up to How to Train Your Dragon 2, Brown noted that the plan for the series was always to tell gound-level stories featuring the characters and their dragons. Once the show got successful, they then began planning for something 'further' but they didn't know what at that time. Once How to Train Your Dragon 2 was fully formed, they were able to formulate that plan.

* Brown even mentions that How to Train Your Dragon 2 ends on a cliffhanger of sorts, and that How to Train Your Dragon 3 picks up shortly after that. So for them, there wasn't much that they could do with that short span of time between Dragons 2 and 3, which led them to choose a point in the time jump between Dragons 1 and 2 that was closer to the second movie.

* According to Doug, they initially had no idea if they were going to do them as older kids or younger kids when they first started out. Brown added that they wrote the first ten scripts as being 'age-neutral', that way they could go either way with it.

* Speaking about the animation process, Art and Doug noted that the animation work is shared between them and artists in places like China. The animation teams also have access to assets from How to Train Your Dragon 2 along with stuff that they create.

* As for creating the dragons, they often delve into original artwork created for the short film Book of Dragons for inspiration. They also tend to mix and match certain dragons to come up with new ones. And as noted before, the abilities of the dragons are all based on what is seen in the animal kingdom.

* Art and Doug even take time to address the fandom. They give a shout-out to Brooke Chalmers (his tumblr is here), who is very much in-touch with the fandom (his walls are described as being papered with fanart. They even address Hiccstrid fans. "They want it so bad. They just want them to get together" Says Brown.

* Immediately afterwards, Brown even confirmed that there will be romance in Race to the Edge. They won't lean to heavily into it, but being on Netflix has given them some leeway in letting those elements in.

* Brown also dropped an entirely new piece of information: Fishlegs will have a girlfriend in Race to the Edge, but its not who you think it is. "Fishlegs is involved in a romantic relationship with someone, but it's not Ruffnut" Brown said. But they did reiterate that once these seasons start to bump up against How to Train Your Dragon 2, they will have set up the Ruffnut-Fishlegs-Snotlout triangle.

* Because they get to spend more time with the individual characters, their episodes are planned out to where they can devote certain episodes to certain characters. We'll even get some 'interesting' pairings. Even though Hiccup and Toothless remain the most important relationship in the franchise (and there will be episodes devoted to them), it was imperative that they also highlight and flesh out the other characters as well.

* The jump in animation and visuals are always taken into consideration when writing the episodes. In fact, their visual effects supervisor (David Jones) always tells the group to "write things that we can't do" as a challenge for them to do it. If there is something that they truly can't do, then they talk with him and figure out a way to adjust that accordingly.

* They always try to find new levels within the characters that the films don't have the time to explore. In the case of the twins, they always try to find new ways of doing comedy with them.

* They don't really take into account the high-def parameters of Netflix when making the show. They did say that "the show will look better on Netflix than it ever did on broadcast".

* Despite being on Netlflix, the seasons have a pretty typical (as far as broadcast and cable) number of episodes (26 episodes). They will both be split into 13-episode increments that will be released every 6 months.

* As far as the future is concerned, there are no definite plans for anything beyond what will eventually be four seasons of the show. What they do know is that they will have plenty of stories to tell in the meantime.

* Animation-wise, there were things that they couldn't attempt on Riders/Defenders that they were definitely able to do in Race to the Edge. These were things that were either left on the cutting-room floor or were fought for but rejected.